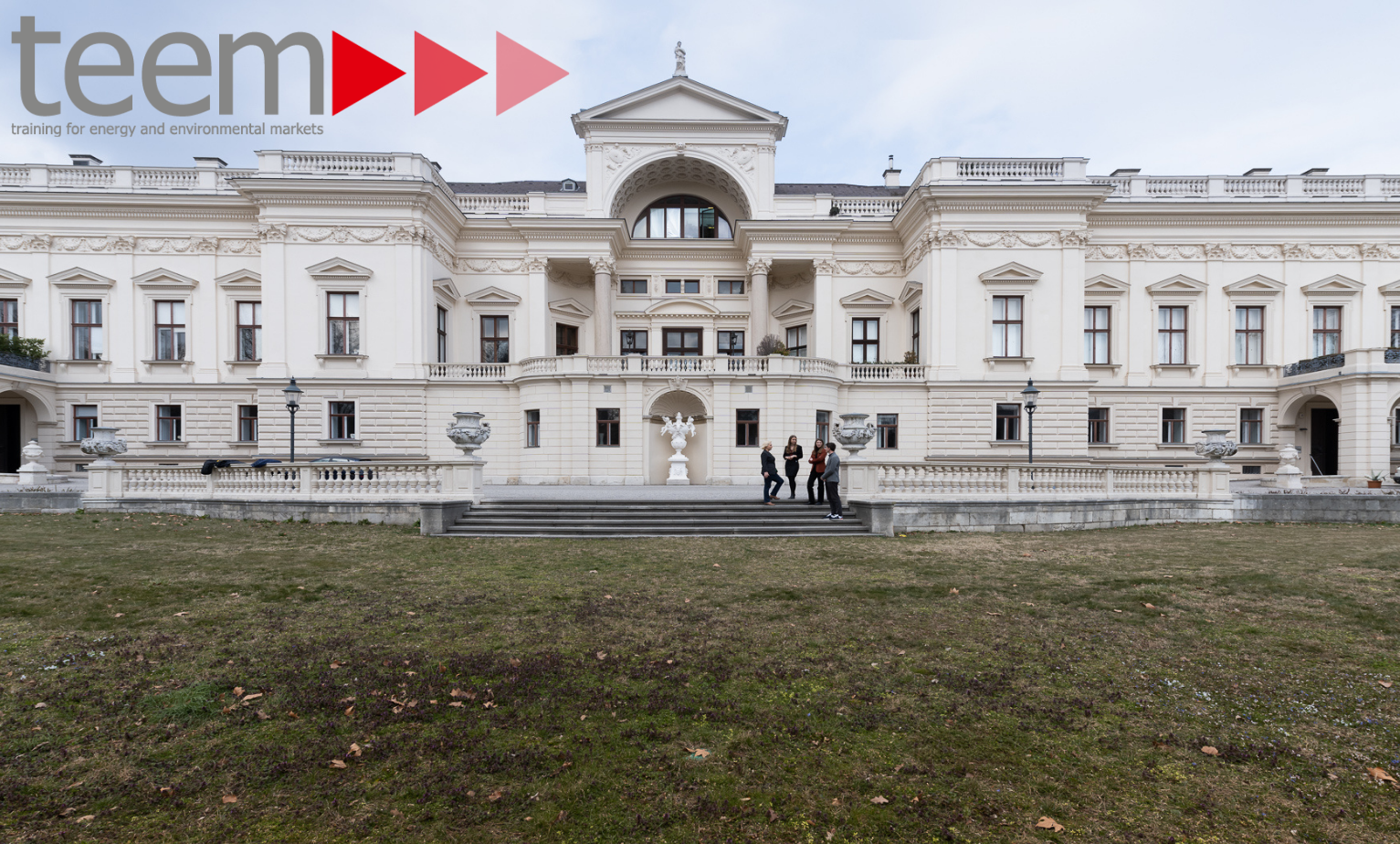 The complex energy market explained simply - industry experts provide a compact and up-to-date insight into the liberalized gas and electricity industry.
Why teem?
---

Since January 2009, EXAA has been offering training courses on electricity and gas trading under the brand name teem - training for energy and environmental markets.
In addition to EXAA's many years of know-how, the expertise of the companies in the CISMO-group and our other partner companies also flows into the training courses.
The training team consists of selected internal and external experts and always offers up-to-date, neutral and practical insights into the liberalised energy market. In individually bookable modules, participants learn everything about the basics as well as current trends and developments in the areas of the energy market, energy law, trade and procurement.
Our offer and your benefit
---
Our many years of experience in organizing training courses and seminars offer numerous advantages:
Internal and external industry experts guarantee the quality and topicality of all content and documentation.
The training program is continuously developed and expanded to include new topics.
The modules are offered (if possible) both as classroom training and online seminars.
Board members, project managers and experts with extensive practical experience are available to answer your questions.
Particularly in the case of classroom training, direct contact with lecturers and course participants in our pleasant ambience at Palais Liechtenstein ensures that you get to know interesting colleagues in the industry.
 After passing the examination, the EXAA trader diploma entitles the holder to participate in trading on the Austrian Power Exchange.
Who are the teem trainings for?
---
teem is aimed at both newcomers to the energy industry and specialists who wish to acquire more comprehensive basic knowledge or deepen their specialist knowledge.
Employees from energy supply companies
New employees and those changing sectors
Traders and staff of the legal department, back office, balance group management and schedule management as well as the commercial departments 
Employees of the Grid, Power Plant Control and Production divisions
Service providers for the energy market - especially newly emerging service companies and cooperations such as generation communities or energy communities
Industrial and large companies (energy procurement area) Energy buyers
Public institutions (NGOs, industry associations, universities, etc.)
Banks, investors
Eco-plant operators and suppliers
Journalists
Personalise the teem training according to your preferences
---

We know that time management is demanding in today's world. That's why, in addition to our three teem training courses per year in Vienna, we offer the possibility for you to design your own and individual teem-training course.

The choice is yours:
would you like to come to Vienna on an individual date?
would you like to attend the training online?
would you like us to come to you and hold the training in-house?

In the case of an individual training, we are also happy to accommodate your wishes regarding the structure of the programme. We offer trainings in German and English.

For more information and an individual offer, please contact us!
For questions regarding the
teem
-training courses, please contact
Alexander Thuma
T +43 1 253 72 72 - 56